Cable Distribution Systems
As a result of long experience in systems of cable and satellite TV, Pogled implemented cable distribution systems in Nis, Belgrade, Aleksinac, Prokuplje, Aleksandrovac, Bela Palanka and Lapovo.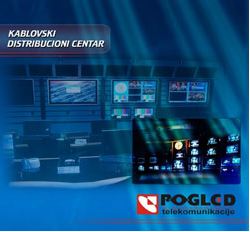 We built also cable distribution systems in Lazarevac, Ćuprija, Aranđelovac, Leskovac, Dimitrovgrad.
Since September 1, 2018, Telecommunications View has no owner of the KDS system in Aleksinac and Prokuplje.
Systems based on HFC network allow a high quality service of cable TV and internet. A variety of program channels and high quality picture are the reason of our subscribers` satisfaction.
Today Pogled telekomunikacije is working on the construction of the latest optical fiber cable systems for its needs and needs of third parties.
HFC-based systems provide a quality basis for the provision of cable television and the Internet, while FTTx systems represent the future of telecommunications and enable gigabit connections to end-users.
A variety of video program schemes and high-quality images were the reason for the satisfaction of a large number of our users. From these starting points we will develop telecommunication systems in the future.
The status of the cable operator Pogled was verified by the decision of RATEL and by registering it under the number 1100-18 / 1.