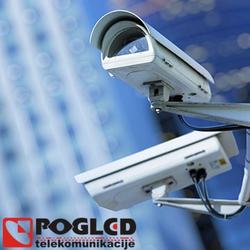 IP video surveillance protection is widespread nowadays.
If you need a modern video surveillance with high resolution picture and/or sophisticated system then you can choose our offer.
Details are available in our presentation downloadable here.
 IP video surveillance is recommendable in cases where there are more locations to connect and cameras to use. Also, where the system is flexible, changeable according to the needs and not centralized.
Pogled Telecommunications made even greater IP Video Surveillance systems – one of them for Official Gazette, a system comprising over 120 IP video cameras.
We are in position to offer complete solutions as final or upgrade for those being in use (analogue or IP).
For system realization we use the equipment of best producers (Axis, Mobotix...) as well as network communication system of renowned companies (Cisco, Allied Telesis...).
Also, if you need IP video surveillance solution with good price/quality ratio we are at your disposal.
For additional information contact us on ipvideonadzor@pogledtel.rs or contact.