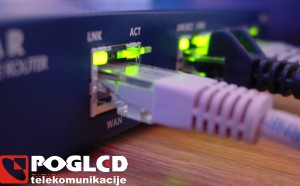 Pogled Telecommunications is engaged in building and implementation of computer networks.
Structure cabling, usage of passive network equipment based on utp cables of 5e and 6 categories, as well as implementation of fiber optics cables within computer networks guarantee a successful realization of very complex systems.
Our short presentation of structure cabling can be downloaded here.
As a result of the above mentioned, we have built/implemented networks at the companies such as `Official Gazette`, `Autokomerc`, `Nicom`. And also, shopping centers in Nis – Ambasador, Dusanov Bazar, Azija Center...
Pogled Telecommunications is authorized by RATEL for technical control in telecommunications, the part of which is the area of computer networks so they can be tested too.
We are in position to offer complete solutions for computer networks as final ones or the upgrade for those being already in use.
In the process of realization we use the passive equipment of the best producers such as (Reichle&DeMassari, Panduit, Legrand...). Alos, the active one of the renowned companies (Cisco, Allied Telesis...).
Furthermore, if you need a viable computer network implementation solution with good price/quality ratio we are at your disposal.
For additional information contact us on: rac.mreze@pogledtel.rs or contact.